At 9:30 on a cold Tuesday morning, I meet Wen Wang at his tiny office in Chinatown. The street is empty except for a homeless man pushing a shopping cart full of possessions.
Storefronts are worn down and unwelcoming, and the tents of homeless people line nearby streets. Wang unlocks the door to let me in. "Whenever people talk about Chinatown, their first thought is, 'Why do you go there?'" he says when we settle in. "Security is the number one thing."
Chinatown is ground zero for Edmonton's triple crisis of addiction, mental health and homelessness. Wang, as executive director of the Chinatown and Area Business Association, has been advocating for his community and the 130 members of his organization for the last three years.
While he is emphatic that he respects the work being done by nearby social service agencies, and he says the people who live on the streets need support and deserve respect, he points out that the Hope Mission, Boyle McCauley Health Centre and Boyle Street Community Services are all within a few blocks of Chinatown, as are three of the province's seven supervised consumption sites.
"People come from all over the city to Chinatown to get the services," he says. "We have many, many social agencies. They're doing a great job, but it's the number. Why do we have so much concentration in this one community?"
He tells me about the needle collection program the association started three years ago with Mustard Seed, a Christian social service agency based in the area. Clients of Mustard Seed are paid minimum wage to pick up hypodermic needles in and around Chinatown. "On average we pick up somewhere between 300 and 400 needles a month," Wang says. "We start in spring, when the snow goes, and we go until December, 120 hours a month."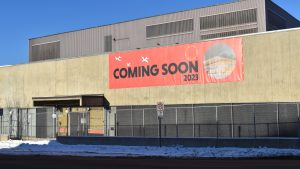 Chinatown has tried to bolster its own security. In the summer of 2020, Wang hired a security guard to patrol the neighbourhood, working eight hours a day for a two-month pilot project. Then, last June, after two men were killed in Chinatown, the association hired nine guards who work from 9 a.m. to 9 p.m. That work is supported by a $300,000 grant from the City of Edmonton. "It helps, but it's for the short term," Wang says. "Long term, it's definitely policy."
On the policy front, in October the province announced $63 million in new funding to increase access to addiction services over the next two years in Edmonton, and $19 million to reduce homelessness. Then, earlier this month, the province announced a "task force" to "address social issues through a coordinated response between the province, city and local partners."
City Councillor Anne Stevenson, whose O-day'min ward includes Chinatown, says she's hopeful the announcements will lead to some "practical and actionable steps" to help the situation.
She was happy to see an additional $12 million go to Homeward Trust for new supportive housing. Now, she says, we need to ensure the people moving into those units have the supports they need. "We know there's a huge shortage of treatment spaces, so people who come to a point where they are ready for treatment are often being turned away due to lack of capacity," she says. "We're also seeing that many people are turning to shelters only as an extreme last resort, when temperatures are closer to minus-10. That speaks to the importance of the minimum shelter standards, which I was thrilled to see are included in the province's task force recommendations."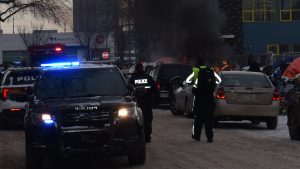 Stevenson says she's sympathetic to Wang's concerns, and recognizes that the Chinatown business district has been under enormous pressure. "It's been devastating for them," she says. "It's been devastating for a lot of community members. Some of those really important game changers include the minimum shelter standards. As those are more fully implemented that will go quite some way in terms of addressing some of the challenges."
She also wants to see additional housing options so people can move from shelters into housing, ensuring that shelters act as a bridge into permanent housing and not as a permanent solution themselves.
Wang says those pressures compelled the Chinatown and Area Business Association to oppose Boyle Street Community Services' application to rezone a property it has purchased and wants to move into. He is concerned the larger site will bring more people to the area and compound the problems, but Stevenson says social service agencies can coexist well with businesses and the broader community, provided the right supports are put in place. "That's an area that has been hugely lacking," she says. "These communities have been asked to take a large number of social service agencies, but without the corresponding supports and services from the City and other orders of government."
As I leave Wang's office and step back onto 97th Street, two police cars whiz by, sirens blaring. I turn the corner onto the sidestreet where I'd parked and see smoke billowing from among the tents. A propane stove had exploded and three unoccupied tents were burned. Nobody was hurt and, after the fire was extinguished, emergency services departed. The challenges remained.
Savvy AF.  Blunt AF.  Edmonton AF.