In February, Edmonton Transit Service announced that bus ridership had rebounded to pre-pandemic levels. A cake was cut. Grip-and-grin photo ops were held.
But, as shown by the City's recent budget update, ETS's financial picture is still far from healthy.
This month, councillors were told that the City faces a $73.8 million budget deficit by the end of 2023. To cover it, the City would need to dip into its reserves. And, it's the largest one-year budget deficit the City has ever run.
Of that, $11.7 million is because of a revenue shortfall from ETS. And this is where we find out the awful truth; while we were celebrating bus transit ridership coming back to normal, Edmontonians are not coming back the same way to the LRT or DATS services.
"ETS bus ridership has fully recovered to pre-pandemic levels, yet LRT and paratransit ridership have not," stated Carrie Hotton-MacDonald, the branch manager of Edmonton Transit Service.
But the ridership disparity between buses and LRT isn't the only factor when it comes to ETS's shortfall. It also has to do with how people are purchasing fares — and when we're riding. And we're not buying passes like we used to, preferring to pay as we go, instead.
"For example, demand for bus service has grown in off-peak time periods, while demand for LRT has returned more strongly in the peak times for commuter travel and is not seeing the same growth in off-peak times," Hotton-MacDonald wrote in an email. "These types of changes in demand impact what fare products people purchase, which impacts fare revenue recovery."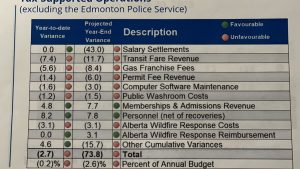 "Since the pandemic, ETS has also seen a change in rider travel patterns. Since the onset of the pandemic, ETS has seen a change in fare purchasing behaviours, with an increased reliance on cash, tickets and discounted fares, and a decrease in monthly transit pass sales. This directly impacts the amount of fare revenue ETS collects."
Plugging The Budget Holes
For Coun. Jennifer Rice, the transit shortfall is part of a bigger question. If the City doesn't plug the spots where it's leaking money now, how will we know we won't be running into deficit issues in the years to come?
Each time I've met the Ward Ipiihkoohkanipiaohtsi councilllor in person, she roughs out math equations on a piece of paper. Charts. Graphs. Questioning budget numbers and how or why the City got there. She also surveys her constituents regularly, and uses those polling numbers to inform her votes in council.
And, while she understands that a $43 million chunk of the $73.8 million is going to staffing costs — a one-time spend — there are other red flags in the deficit that are worrying her.
"What happens next year if we're down again? We can't do it," said Rice.
Rice is also worried that revenues from City permits will be down $6 million, and she wants to know how that happened.
And, The Bullshit
Part of a journalist's job description is having to cut through a lot of bullshit.
And, if there is a term that deserves "bullshit hall of fame" status, it can be found in the City's budget update, which went to council this month. It warns that the City will need to dip into the reserves to cover a record $73.8 million annual deficit.
That's been reported in a lot of places. But, when you break down the "how did we get here?" part of this, that's where you get more questions and answers.
Of the $73.8 million shortfall, $15.7 million is attributed to "other cumulative variances." What? The term "other" wasn't good enough, so why not add "cumulative variances," which means absolutely nothing, to create a fantastic version of obfuscating government-speak?
The key thing to take away from here, is that in the update provided to council, a little more than a fifth of the budget shortfall was attributed to something that's, well, not explained.
"It is frustrating," said Rice. "I can say that very frankly. It's not only about the lack of details, it's more about how the City is managing our spending. Not counting the $470 million, this $73 million is already very frustrating to me. This demonstrates to me that we need a specific plan to manage spending."
What $470 million, you ask? Well, city council still needs to figure out how to deal with a major shortfall in the maintenance budget, which could pile into billions of dollars in the years to come if it's not managed properly, soon.
"For a big city like us, our finances should be really healthy," said Rice. "I know it's a challenge to keep that in a healthy condition. But where are we going to find the money to fill the (reserve) back to a minimum level?"
Savvy AF.  Blunt AF.  Edmonton AF.