You're thinking about patios, working on your yard or making sure your kids get to their soccer games. It's summer. It's not the time to be thinking about snow removal.
But, as Edmontonians, there really isn't a wrong time for us to be talking about snow removal. How the City of Edmonton clears the streets, sidewalks and bike lanes is something we could argue about just as passionately as the Oilers' need for a shut-down defenceman.
And, city council will clearly have to wrestle with some tough news regarding the four-year snow removal plan that was presented to the Community and Public Service Committee this past week.
This past winter, the City spent $72 million to clear the streets, public walks and paths of snow and ice. This year, the budget for snow and ice removal shrinks to $63.2 million. And while it's expected to be boosted over each of the next four years, it won't get back to the $72 million threshold unless council makes some changes in terms of its spending plans.
The result? The expected completion times for snow removal will grow; from four days to five for arterial roads; from eight days to 10 for residential roads, and bus stops and some public amenities may take up to 22 days.
And the chair of the City's own Accessibility Advisory Committee, Tonia LaRiviere, said the increased delays in snow removal will make a bad situation worse for Edmontonians who need mobility aids to get around. She said windrows are already "literally trapping people on the block." And Coun. Aaron Paquette said he's seen situations where people in wheelchairs needed help from other pedestrians to be lifted over the windrows and walls of ice. (This is something I have seen as well.)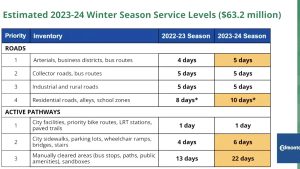 So, a City Council that has preached the fundamentals of equity and erasing bias since it was elected, this is a thorny question. How do we marry the idea of slower snow removal times with a City that's truly accessible?
"These service reductions are a concern for this [Accessibility Advisory] committee," said LaRiviere. "Persons with limited mobility are disproportionately affected by snow and ice control measures, and face the risk of increased injuries in icy conditions."
Arne Andres, a director at Click & Push Accessibility and an advocate for better mobility options in Edmonton, said that snow and ice removal is a massive issue for his community.
"Snow removal is not always a priority… Even the shoveled snow on the street and sidewalks create barriers themselves"
The Committee voted to back a plan that would make the public more aware of the needs of the disabled when it comes to removing snow from our sidewalks, and create a clearer communication plan around neighbourhood parking bans.
Coun. Andrew Knack said that, while he's comfortable with how well the City does when it comes to getting the main roads cleared, he's not happy with how long it takes to do snow removal in the smaller streets, pathways and bus shelters.
"It's how we're addressing the local roads and how we're addressing the infrastructure for those who can't drive or choose not to drive that is still significantly off where I think we need to be," he said. "But we'll have that conversation later this year. My hope is that we'll see at least a return to last year's levels sooner rather than later. And I'd like to see us move up to the ideal level by the end of the budget cycle."
Paquette said the coming tax increase of 4.96 per cent is barely above the inflation rate ("we're running behind on simply keeping up"), so it's hard to grow any public service — unless some hard choices are made.
"So the challenge we have here is one of resources. Unless council wants to increase taxes or cut from other services, it looks like the snow clearing budget is what it is."
There are some variables at play; climate change is making it harder to predict the severity of storms, and increases the freeze-thaw cycle that makes our streets slushy — and causes potholes and cracks. The city continues to grow, so there are more streets to clear, with fewer dollars to do it.
And, the City will also need to reconcile its nearly $500 million-per-year maintenance gap this autumn.
Savvy AF.  Blunt AF.  Edmonton AF.