The phones are ringing at "historic levels" at EPCOR's call centre.
"We're at maximum capacity," says Lianne Redmond, director of Encor by EPCOR.
And what are we all calling about? Rising electricity rates. Even though EPCOR doesn't set the rates — the dirty work is done by the Alberta Utilities Commission — it certainly is taking the blowback for the rising price of power.
In August, the regulated price of power is 29.845 cents per kilowatt hour. That's more than four cents more than what it was in July, and more than double what it was in May. That's right — double.
This is the rate paid by people on the RRO — that is, people who have not locked in a rate through some sort of electricity contract.
But it gets worse. On top of that 29.845 cents per kilowatt hour, you need to add another 2.694 cents in deferral payments. What's that? The provincial government put in a price ceiling of 13.5 cents per kilowatt hour in January. That program lasted till March. But it wasn't a price cut. While your power bill was protected in the first three months of 2023, anything above and beyond those 13.5 cents/hr were simply spread onto future power bills, starting in April of this year and going till the end of 2024.
It's frustrating for customers who have seen their electricity bills more than double from what they were paying just a few months ago.
"People just want to turn on the lights and not think about this stuff," says Redmond.
But, judging by the call volume, we are thinking about this stuff. So, why are our power rates skyrocketing?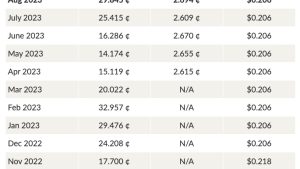 It's a simple case of supply and demand. Alberta's utilities can only generate so much power. Electricity is a real-time business — power is produced and we use it right away. There is really no cost-effective way to store it. So, if we collectively use more power, the price goes up.
And, since we've returned to relative normalcy after our COVID malaise, power demand is up. Redmond says Alberta's population is growing, and we're not going to get any additional power generation until at least the end of 2024. So, right now, we're paying the cost… of growth.
Joel MacDonald is an expert on the price of power, and heads the consumer-info website energyrates.ca.
"This is a record high rate, and this trend is expected to continue for the next two months," he predicts. After that, the forecast is that the price will move back to between 16-20 cents per kilowatt/hour and that trend will go into early 2024.
MacDonald says there are four factors that have created a "perfect storm" for prices to soar.
The transition from coal to natural gas is reducing our capacity to produce power, as coal-fired stations go offline.
Moving to renewable energy from thermal power is noble, but there are many issues that come with it. "With solar panels, you can't just turn on the switch and they produce power," he says. For wind and solar, you need the right weather conditions. But, we don't have the ability to store large amounts of electricity — and, usually, when the conditions are good for solar and wind generation, we aren't in high-demand periods. So, the times when we need the power and when renewable sources can produce the power are mismatched. Until we can find ways to store power produced during low-demand periods, this will be our renewable-energy paradox.
This one is on us. It used to be that air conditioners were rare in Alberta. Our summers weren't hot enough to need them. Now, pretty well every new home is built with them, and they are creating a second high-demand season for energy providers. It used to be that demand was strongest on the coldest days of the year. Now, hot days bring on the thirst for electricity. So, the more we run our a/c units, the more pressure we put on electricity prices.
And finally, Alberta's favourite bogeyman of all, the federal carbon tax. The tax is paid on generation, but those costs are then passed onto customers.
So, how to make sure you're not paying more than 32 cents an hour? Be on a competitive contract rather than the RRO.
Most Albertans aren't paying the regulated rate; according to Market Surveillance Administrator, only 35 per cent of Alberta residences aren't on some sort of electricity contracts, which insulate from higher prices. But Edmonton is behind the curve; the numbers show there are nearly 183,000 customers on the RRO rate, and nearly 216,000 on contracts (close to a 45-55 split).
So, the adoption of contracts in Edmonton is well behind what you'd see in Calgary or other parts of the province.
Redmond says that many people are afraid when they hear the word "contract" and hesitate to go into a program that could greatly reduce their power bills. She said that Encor by EPCOR's plan could save more than $120 on the August bill alone for an average household. And, contracts are portable — they can move with you — and you're not locked into them.
MacDonald says that consumers need to be aware that contracts are great when prices are historically high, but it can be better to be an RRO customer when prices are low. So, he says Albertans need to know that it takes just 30 days notice to get out of an energy contract, with no penalty. If you're on the RRO rate and want to move onto a contract, there is no waiting period.
"Knowing this, you can always shop around for the most competitive product out there," he says.
And, there are multiple contract providers doing business in Edmonton, and they all may have different rates. So, the message from MacDonald is to do your homework. Shop around.
Nagwan Al-Guneid, the provincial NDP's Critic for Energy and Climate, said the UCP government must look at capping electricity rates at 12 cents/kilowatt hour.
"Families have faced years of rising costs, and the increase in electricity bills would impact the most vulnerable Albertans. We have yet to see the UCP government offer a solution to help struggling Albertans."
Savvy AF.  Blunt AF.  Edmonton AF.