It's no secret that attending an event at Commonwealth Stadium comes with irritations, from long waits to get in and out of the facility to substandard concessions and washrooms.
Victor Cui, president and CEO of anchor tenant Edmonton Elks, knows more than most about the stadium's shortcomings. He acknowledges the washrooms and concession space and cold concourses, adding that the stadium also needs better cooking facilities and sufficient IT capabilities to allow fans to order from their seats. Then he points to the garbage cans in the concourse, which are still wrapped with a logo scheme from 2018. "There are some basic things we have to get right," he says.
But where to begin? The City of Edmonton lost out on its bid to host games for the 2026 FIFA World Cup. The failure of that bid was a huge lost opportunity because each of the three levels of government — municipal, provincial and federal — had committed about $110 million for upgrades. The upgrades would have supported the FIFA requirements — even though some of those, such as installing real grass and raising the level of the field, would not otherwise have been needed — and allowed for modernization of basic amenities. With FIFA's decision not to award any games to Edmonton, that money is off the table.
But City Councillor Tim Cartmell, who was involved in the FIFA bid, is adamant that Commonwealth is a great asset for the city, that its size makes it unique and that many events have come to Edmonton because Commonwealth is here. "Even just in the last month you can see where we've had two Garth Brooks concerts, the Papal mass and the monster truck event that have come to Edmonton — and not Calgary or Saskatoon or Regina — because of the size of the stadium," he says. "It's been a tremendous asset and one that we need to reinvest in to continue to attract that kind of activity in the future."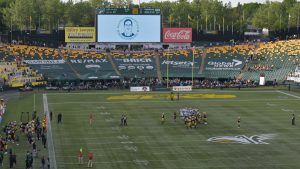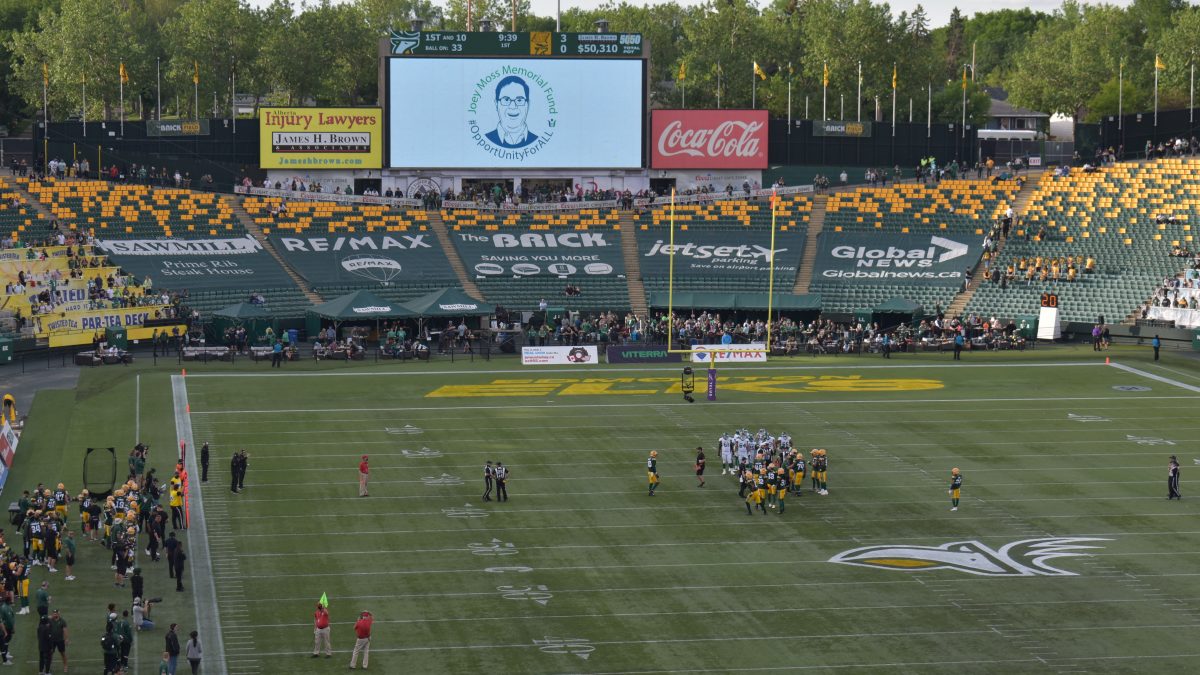 Cartmell is a sports fan and a structural engineer, so when it comes time to talk about the stadium's future, those two interests collide. He offers up the analogy of Rogers Place and Calgary's Saddledome, which opened in 1983 and is widely considered out of date, without the behind-the-scenes amenities and services people expect today. "Well, Commonwealth opened six years earlier, in that same era when an arena or stadium had a seating bowl and rather rudimentary changing areas and concessions and washrooms," he says. "There was less focus on all the ancillary needs."
The stadium's bowl is fine, with good sightlines and reasonable proximity to the action, although fans watching from the nosebleeds might disagree. But Cartmell says that if Commonwealth is to compete with other stadiums, it needs modern concession spaces and washrooms and better behind-the-scenes spaces for performers, whether that's green rooms for entertainment acts or locker rooms for sports teams. Upgrades might also include a new scoreboard and a secondary scoreboard. Cartmell also suggests partnerships with third parties for food and drink. "If you go to a baseball stadium today you see offerings from all of those places you might patronize outside the stadium," he says.
Cui, who has worked on major sports events around the world for decades, says he's already over any disappointment he felt about FIFA's decision. "I've seen this storyline so many times," he says. "I've been part of cities and bids that win and lose and that's part of the game." But he says he thinks we have the model wrong. He says with a unique asset like Commonwealth, we should have events competing to come here. To do that, the three levels of government have to be aligned on the benefits that would flow to a rights-holder that brings an event here. "If you package that right and put it out to the world, there are hundreds of events that want a home and would want this," he says, "especially in a city that has a reputation of delivering sold out stadiums to international events and a big volunteer base."
Cui says discussion should include not only the stadium itself but also the development of the neighbourhoods around it: Parkdale to the north, McCauley to the west and Cromdale across the LRT tracks to the east. The stadium is not well integrated with any of them, and fans have little reason to come to the area before the event or stay after. But he says the potential is there. "In terms of the location, we're by an LRT, biking distance to the river valley, five minutes from downtown," he says. "It has every friggin' checkmark that could make it awesome."
He also says the Elks corporate offerings no longer reflect the corporate demographics of the city. "They did 20 years ago when we had big oil and gas companies willing to spend $50,000 on a suite, but today we have a lot of small businesses that can spend a discretionary $3,000, but not $50,000, and they don't want to host 30 people 10 times per year." He says fewer large private boxes and more loge seating, like at Rogers Place, would help.
Cartmell says it will be tougher to bring the senior levels of government to the table — particularly Ottawa — now that discussions don't centre around a specific international event. At the same time, the province had a budget surplus of $3.9 billion in fiscal 2021-2022, and that number is expected to grow in coming years thanks to skyrocketing oil and gas royalties. The provincial government has talked about using the money for debt retirement, but Cartmell says there is also a massive deferred maintenance problem across the province, on everything from schools to hospitals to roads. He would like to see the province commit to investments in fixed assets, including the stadium. "It's one-time money," he says. "It's an injection of dollars that sees an immediate result in the condition of our fixed assets."
"Ideally, there is recognition that the stadium brings economic activity to the city and the region and the province, so there's an opportunity with two or three levels of government to invest in it," he says. "It starts with taking the work that was done with FIFA that identified the modernization needs of the stadium, putting a budget to that and then seeking partners to execute some or all of that work."
Savvy AF.  Blunt AF.  Edmonton AF.