This past November, the Canadian men's national basketball team played two World Cup qualifiers at the Edmonton Expo Centre. About 3,000 people came to each game. The games were nationally televised and there was media coverage from across the country. The Canadian players came through with wins over Venezuela and Panama.
Reed Clarke, the president of the Edmonton Stingers, felt that his Canadian Elite Basketball League team could only benefit from the buzz that the national team had generated in the city. And he believes the Canadian team's two-game series is one of the reasons the Stingers' attendance is up 150 per cent this summer.
Clarke remembers what he told his staff as they watched the Canadian national team games unfold.
"This is the minimum of what it will be this season. And, it ended up being a real stepping stone for us."
The Canadian national team qualifiers are just a part of why Edmonton was just ranked as the second-best sports city in Canada by BCW Sports, the Switzerland–based agency that unites big sports organizations with government, and measures the impact sports make around the world.
Six Canadian cities made the list. As we might expect, Toronto finished the highest of the seven, at 27th overall. But it did fall out of the top 20 in 2023.
Edmonton was next at 38th, then came Montreal at 43, Vancouver at 45, Calgary at 75 and Ottawa in 85th place.
Paris, which is the next Summer Olympics host city, was named the top sports city in the world.
Edmonton was passed over by FIFA for the 2026 World Cup, but around 100,000 fans gathered at Commonwealth Stadium for two massive men's national-team victories in November of 2021, and images of defender Sam Adekugbe hurling himself into a pitchside snowbank went viral.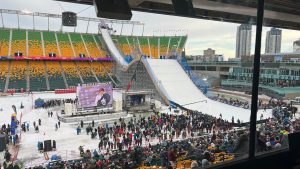 Despite losing out on the FIFA World Cup, Edmonton has recently hosted international rugby sevens, the World Junior Hockey Championships, international beach volleyball and a stop on the 2022-23 Big Air snowboard schedule. For that one, a temporary snowboard ramp was constructed inside of Commonwealth Stadium, with riders sliding and leapng to field level from a spot nine metres above the top row of stadium seats.
"It doesn't look real, I'm actually in disbelief," that was the reaction of Canadian rider Jasmine Baird when she saw the ramp for the first time. (She'd go on to win the women's event, so the disbelief turned to joy pretty quickly).
Edmonton Elks president Victor Cui says that he and partners in the city are working to bring more unique, non-traditional sporting events to Commonwealth Stadium in the future. "Anything that requires our field of play," he said.
This diversity of offerings is why Edmonton is improving its international reputation as a sports city.
From BCW: "The annual BCW Ranking of Sports Cities evaluates top 100 sports cities from around the world based on a quantitative digital footprint analysis of the association between sport and a city [weighting 50 per cent], combined with the perception-based views of leaders of International Sports Federations [25 percent] and major international sports media [25 per cent]."
It's a big deal to be ranked so high by BCW, says Paul Hawes, Explore Edmonton's vice-president of Destination Development and Marketing.
"Part of our mandate at Explore Edmonton is to drive sports event business into the city," Hawes stated via email. "Placing second among Canadian cities is first and foremost, validation of the hard work we put into attracting and developing sports events into Edmonton.
This ranking creates further trust and recognition among key international decision makers, event developers and hosts as well as sports media. Every year, we place among the top 50 on this list so we continue to perform well and continue to maintain relationships and respect from national and international federations.
"Edmonton has seen significant growth in its Sports and Cultural event attraction – we can point to this ranking in the bidding process as a promise of support from across Edmonton and what the client can expect when they are here.
"BCW is a well known and respected international agency… We, like many organizations, work with BCW for support because of their influence and knowledge. This recognition will go a long way to help position Edmonton in the eyes of rights holders, event hosts and planners."
The fact that global experts see Edmonton as a growing sports city makes the loss of FC Edmonton, which ceased operation ahead of the 2023 Canadian Premier League soccer season, all the more glaring. While the Stingers were able to build on the success of the basketball World Cup qualifiers, FC Edmonton's crowds continued to dwindle after the two famed "Iceteca" games at Commonwealth Stadium. The Canadian Premier League took over operations of the team for the 2022 season and could not find any serious buyers for the club — and then decided to pull the plug.
Savvy AF.  Blunt AF.  Edmonton AF.