About an hour after Pope Francis left Maskwacis last week, after most of the media that had descended on the community had gone and people were cleaning up and saying their farewells, six Chiefs of the Confederacy of Treaty Six First Nations gathered in the community's high school for a press conference. They sat not far from the site of the former Ermineskin Indian Residential School, one of the largest in Canada, which many of them had attended and which operated until 1975.
They had just witnessed the first act of the Pope's six-day "penitential pilgrimage" to Canada, an apology to the peoples of their nations for the cruelties and neglect that had flowed from the residential school system.
One by one, the Chiefs reflected on what this day had meant to them and their communities. While there were hundreds of national and international media who witnessed the apology, only a handful stayed behind to hear from the Indigenous leaders.
Chief Randy Ermineskin of the Ermineskin Cree Nation, as host of the event, spoke first. He thanked the other chiefs for their support through the long process that had led to this day. He said his brother, Brian, attended the Ermineskin school, and that he took his life in 1969, aged 17. "I always think about that," said the Chief. "What kind of life would he have had? I'm sure he'd have been a prominent member of our nation." The Chief said about 80 per cent of his former classmates are in their graves. "I promised them I would be their voice," he said. "I promised them I would go out and tell the truth. It's about truth, justice, healing and reconciliation. And one thing I want to talk about today is hope. We want to bring hope to our communities. I'm so happy that all of you are here and for the courage our community has shown."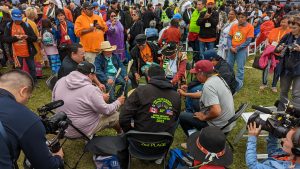 "On behalf of my elders and all the people who went to residential schools, this is a historic day and words fail me to say the importance of what this means to my people," said Chief Vernon Saddleback of the Samson Cree Nation. He said he wanted to focus on the apolitical nature of the day. "The Prime Minister was here, the Governor General was here, politicians from Alberta and the Assembly of First Nations National Chief, but none of them spoke," he said. "Sometimes, we just have to sit back and listen. With the Pope apologizing, it was a chance for everyone in the world to sit back and listen."
"Pope Francis has shown grace," said Treaty 6 Grand Chief George Arcand Jr. "He can lead the change for his people and we are prepared to walk alongside them on their reconciliation journey. I thank him for honouring our requests to deliver his apology in person. It is a gift for many."
Sitting with the chiefs were John Cryer, an elder from the Samson Cree Nation, and Evelyn Korkmaz, a Cree woman who attended the notorious St. Anne's Indian Residential School in Fort Albany, Ontario, for four years. Cryer said he was taken from his family in 1954, aged six, speaking not a word of English, and put in the Ermineskin school. He says parents of children at the school used to come and set up a tent on the other side of the fence. They were not allowed to come in, nor the kids to go out, but they would wave at each other. He said he was taught that he was inferior to white people, that it was OK for the settlers to take their land and put them in residential schools. No longer. "As the people get stronger, we want to bring them out of the prisons. We want to bring the children back from foster homes. We know we can do this work so Indigenous people can walk the streets and feel safe, so Indigenous people can walk in town and not feel harassed or identified as vagrants."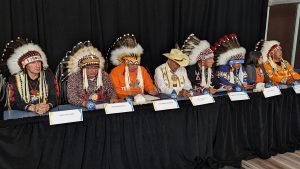 Korkmaz was last to address the assembled media, but brought the most visceral response. "I've waited 50 years for this apology, and finally, today, I heard it," she said. "Unfortunately, a lot of my family members, friends, classmates and members of my community that went to residential school were not able to hear it because they have passed on through suicide, alcohol addiction and other substance abuse. They could not live with the trauma they endured."
Metro Edmonton has the second largest urban Indigenous population in Canada, after Winnipeg, with about 52,100 people, or five per cent of the population, identifying as Aboriginal. Consequences of the traumas suffered by that community can be seen on the streets of our city, in our child care system, in our courtrooms and in our jails.
Nobody at the table was under any illusion that the Pope's visit was the end of the road or that it would solve the problems Indigenous Canadians disproportionately suffer. "There has to be effort," said Chief Tony Alexis of the Alexis Nakota Sioux First Nation. "There has to be work and more meaningful action behind it." Korkmaz insists that the Vatican return all documentation it has related to residential schools.
"Today we learned that the church has a ways to go," said Chief Arcand Jr. "Turning that big ship is going to be a challenge." He said sometimes he wonders if Indigenous people are too forgiving, too accommodating, but that that is how they were raised. "We welcome people into our homes because that's what our parents taught us," he said. Then he turned pensive. "The residential schools taught our people not to question authority and to be ashamed of who we are," he said. "To be quiet and grateful of the opportunity to be more civilized by assimilating, not just by residential schools, but by numerous government policies and systems that were put in place to keep us down, to get rid of us."
Chief Alexis implored the gathered journalists to tell their stories recognizing both the historic nature of the Pope's visit and the strength and pride of his people. "In spite of how hard it was to share the tough stories that our people shared, it brought the leader of the church here to apologize on Treaty 6 land," he said, "it brought the prime minister of this country to stand here and be a witness, and it brought the premier of this region to be a witness. So, to all the survivors, 'Thank you.'"
Savvy AF.  Blunt AF.  Edmonton AF.