Creating more affordable housing has been top of mind for Canadians and the federal government in recent weeks. So, it came as a shock to Edmonton's Trade Winds for Success — an organization that trains Indigenous tradespeople and builds affordable housing — when it learned its funding would be cut off at the end of the year.
The program had been supported by the feds through various grants for nearly two decades, according to Joan Isaac, executive director at Trade Winds.
Since 2006, the program received support to the tune of $2 million from the federal government's Skills and Partnership Fund (SPF). That agreement ended in 2021 but Trade Winds continued to receive funding of around $500,000 via the government's Union Training and Innovation program.
"We have been denied renewal of both sources of funding," Isaac said. "Going into fiscal year 2024-25, we will have no Government of Canada funding at all."
That funding helped fuel a program that puts Indigenous Albertans through pre-apprenticeship training that readies them for careers as millwrights, welders, electricians, pipe-fitters and more.
Training starts with a six-week foundation program, then moves into two distinct streams: an on-the-job union trust training stream and a residential construction stream. The latter produces eco-friendly tiny homes, which the program previously donated to organizations and communities in need.
With federal funding drying up at the end, Isaac said Trade Winds must now dedicate resources towards making up the gap.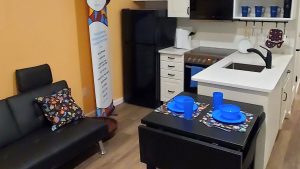 "The question becomes 'how do you keep doing this when you don't have support?' It takes a whole lot of time now to be doing this marketing," said Isaac. "We've already had industry support, but we're going to need more of it."
Courting industry leaders is one option, but another is selling the houses the program produces. In the past, materials used in construction were covered, allowing the program to donate the homes. But, without funding, Trade Winds hopes to recoup some of the cost by putting the homes on the market.
"We're up to it and we will sell those homes. We have big interest in them," Isaac said.
Pricing sits at around $75,000 for the studio model and $120,000 for the bigger, one-bedroom model. Those numbers don't include extraneous costs associated with moving and connecting the homes to the grid.
Greg Dureski, manager of residential construction, said keeping the costs low gives lower income Albertans a realistic chance of owning a home.
"How do you step into (the market) at $600,000? But if you could step in at $150,000 it's now achievable," he said. "Your down payment is realistic. Your monthly payments are realistic."
But how many houses Trade Winds can sell relies on how many they can produce — which in turn relies on how many students are enrolled. With a training cost of $15,000 per student, the number of students Trade Winds can accept is tied to its level of funding. In 2019, when the program was enjoying robust support from the Government of Canada, Alberta and Indigenous and industry partners, it had 281 students. Today, that number sits at less than half of what it once was.
"The loss of SPF funding meant our capacity for training was limited to 100 students," Isaac says, adding that without continued support the program's longevity is in peril.
"We have a small agreement with the provincial government and our Indigenous partners will continue to support us, but we do not have enough funding to cover student training costs and overhead going forward."
Savvy AF.  Blunt AF.  Edmonton AF.