Right now, more than 70,000 Albertans are waiting for surgeries, but Helen Matsuba isn't one of them – not anymore. In August, the 69-year-old Edmontonian flew with her husband to Toronto for hip replacement surgery at a private surgical facility.
"We decided life is too short," she says. "I love tennis, I love spending time with my grandkids, I love walks, and I couldn't do any of those things."
Matsuba is one of many Albertans who have turned to private clinics for surgery and relief from pain. Since the start of the pandemic, private medical clinics in Canada have experienced a large influx of Alberta patients seeking orthopedic, spinal, and other elective (non-emergency) surgeries. A particularly large influx was seen in fall 2021, when the fourth wave of COVID-19 hit and cases overwhelmed hospitals. It forced AHS to cancel 60 per cent of scheduled operations. Alberta's surgical waitlist finally levelled out at 81,600 patients – significantly higher than the 68,000 at the start of 2020.
While private clinics can operate within the province – and have for decades – Alberta legislation forbids them from selling Albertans medically necessary services available via the public system. "It stems from the Canada Health Act," says University of Calgary health law expert Dr. Lorian Hardcastle. "One of the things in that legislation is that provinces are to arrive at a list of medically necessary hospital and physician services." The vast majority of surgeries on the list – including elective services like hip replacements – are publicly funded, which means Albertans can't access them privately (unless they're injured workers insured by the Workers' Compensation Board).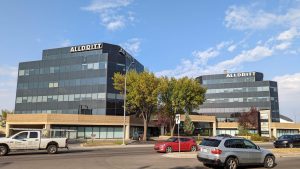 But the law doesn't stop Albertans from paying out of pocket in other provinces – nor does it prevent patients from other provinces seeking private treatment in Alberta. And because of the pandemic's impact on health care systems Canada-wide, this jurisdictional shuffle is becoming more common.
Musical chairs: healthcare edition
If you look up private surgery in Alberta, you may be surprised at how many clinics offer non-hospital surgical services – and not just medically unnecessary procedures (like cosmetic or laser eye surgery), but much-needed elective surgeries (from carpal tunnel and hernia surgeries, to hip and knee replacements). Some of these clinics have popped up recently, while others have been operating for decades. One of Calgary's largest, Riverview Surgical Centre, was established in 1988.
"That's just not a very sustainable way of solving those capacity issues."
So, as Albertans like Matsuba seek private care in other provinces, other Canadians are coming here, in a kind of cross-pollination of private surgical clinics. Most are paying their way at private facilities, but some provincial health authorities are now sending patients to private clinics in other provinces to shorten their own waitlists. This summer, Saskatchewan announced it would be sending 20-25 patients to Alberta each month for orthopedic surgeries at a private Calgary clinic. Not long before that, a freedom of information request made by the Alberta NDP showed that the provincial government had considered a pilot project that would send surgical patients to a private clinic in British Columbia.
It's not unusual for health authorities to send patients to other provinces for care, says Hardcastle, but traditionally, they're sent to public facilities when a procedure isn't offered in their home province or territory. Sending public patients to private clinics out-of-province is a newer twist on the theme, which Hardcastle considers misguided. "It seems a precarious way of dealing with waitlists – hoping that other provinces [have] the availability and that you have patients that are able to make the trip," she says. "That's just not a very sustainable way of solving those capacity issues."
Enter the Alberta Surgical Initiative
At a press conference in early September, outgoing Premier Jason Kenney explained that more than half of the 70,000 Albertans on the surgical waitlist had waited longer than the clinical recommendations. "The bottom line is that we must get more patients treated more quickly and using the innovation of the private sector is one important tool to do so," he said.
Kenney was referring to the Alberta Surgical Initiative (ASI), first announced in 2019 during the UCP election campaign, which emphasizes the use of privately owned facilities – or "chartered surgical facilities" (CSFs) – for publicly insured surgeries. Alberta has been doing this since the 1990s, particularly for cataract surgeries and abortions. Today, there are about 80 CSFs in Alberta and more than half offer publicly funded surgeries.
Earlier this year, the UCP announced that Alberta Health Services was targeting 30,000 ophthalmology surgeries at private facilities across Alberta this year, plus 6,000 orthopedic surgeries via contracts yet to be finalized. At the September press conference, the government expanded the initiative to provide an additional 1,350 surgeries in the province's Central Zone and 1,250 in the South Zone.
In addition, last summer the government approved a bid from the Enoch Cree Nation near Edmonton to open a private orthopedic surgery centre with Surgical Centres, a private health-care company with five locations across Western Canada. It's hoped that the facility will open mid-2023 and perform 3,000 procedures a year in a bid to reduce the considerable backlog for hip and knee replacements. At the Centre Ice Conservative Conference in August, Enoch's Chief, Billy Morin, called the project a matter of "reconciliation in health care, and not just for Indigenous people," and praised the plan for its potential to retain doctors in the province.
But the province's shortage of doctors and other health-care workers is one of many reasons Hardcastle questions the plan's feasibility. The government hasn't talked much about how it will increase the health care workforce: "Ultimately, that's always going to be a barrier to the waitlist issue – having the staff to perform the procedures." She worries about the public system losing doctors to private clinics, too.
The NDP has been vocal about its opposition to public health dollars ending up in the pockets of private companies and concerns about private health care undermining the public system. But NDP health-care critic David Shepherd also questions the premise of the ASI. "We aren't using our public operating rooms to anywhere near their full efficiency," he says, citing conversations with health-care workers who've reported surgery suites sitting idle.
Shepherd says there's a dearth of data available on the subject and wants the government to conduct a thorough assessment of existing surgical capacity and then release this information publicly, along with data about each resource's "rate of utilization." And, if indeed surgical space is needed, Shepherd wants to know why the government can't build additional infrastructure. "The UCP hasn't justified why these clinics aren't being set up in our public system," he says. It's not that the provincial government has completely ignored public surgical infrastructure: The 2022 budget promised $133 million over three years to expand and build new operating rooms in Alberta hospitals.
Shorter waits ahead for patients?
Since the waitlist peaked at 81,600 patients in December 2021, the number has dropped to 70,000. The province has been prioritizing cancer surgeries and the UCP says 70 per cent of cancer patients are now receiving their surgeries within the recommended period of time, up from 60 per cent pre-COVID.
Time will tell how well the ASI works to decrease elective surgery wait times, but Hardcastle warns that the size of the waitlist won't tell the full story. CSFs are designed for uncomplicated surgeries, which could leave "sicker people potentially waiting longer in public hospitals," even as the waitlist decreases.
Matsuba – who is active and healthy – might have found herself getting surgery at a CSF had she not left the queue. On the other hand, waiting may have worsened the arthritis and osteostenosis in her spine, as her doctor warned, and she might have been in constant pain for years.
She's glad to have had the surgery and considers the nearly $30,000 bill money well spent. At the same time, she wrestles with guilt, knowing others can't afford to pay for private surgery – and expresses frustration with the state of public health care. "I'm someone who believes in universal healthcare," she says. But, like so many others, if the public system is overburdened, she'll look elsewhere.
Savvy AF.  Blunt AF.  Edmonton AF.