For decades, Edmonton's downtown has been a place people frequented for work, not play. In the wake of a shift towards remote work, downtown's office spaces — upon which the core relied on for much of its economic footprint — has been largely hollowed out. 
That's where housing comes into play.
"The best scenario for downtown is that we have thousands of people move there tomorrow," said Heather Thomson, executive director of the University of Alberta's Centre for Cities and Communities.
But whether those spaces will actually convince residents to move is still up in the air. Downtown has, on average, more inexpensive rental costs than many other districts in the city, yet it has a 5.1 per cent residential vacancy rate (down from 9.5 in 2021) as of this time last year. While that's not as high as the commercial vacancy rate (over 20 per cent), it's still larger than the two-to-three per cent most developers like to see in a metropolitan city.
Thomson said Edmonton's downtown would attract more permanent residents if there was a more robust offering of housing there and that, in turn, would benefit the area's economy.
"What we're missing in the core is a complete mix of housing," she said. "We just don't have a diverse enough set of housing options … if we have (them) you have a diverse workforce and a diverse set of people using different services. That's where vibrancy really starts to kick in."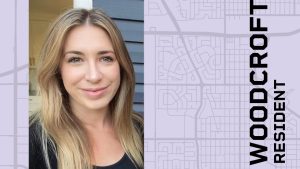 But getting developers to build in an area that doesn't have a great reputation as a place to live — or even frequent after dark — is easier said than done.
Bill Blais is the CEO of Maclab Developments, which is building The Parks residential units downtown. Blais said developers are typically looking to invest in areas that are nearby amenities and close to transport — all of which downtown has.
And there are projects happening downtown, but not at the rate that's needed to make an impact on a downtown the size of ours.
"There's been a few others over the years, but is it growing? I'm not sure," Blais said. "I don't think it's retreating, either. Certainly, the City needs to do a good job of making it attractive for people to be downtown and feel safe and secure."
At an Urban Development Institute luncheon this week, Coun. Tim Cartmell said that all Edmontonians have to hold their elected officials and police officers' "feet to the fire" when it comes to issues of safety in the downtown core. But he said we need to use our "inside voice" when speaking about Edmonton's ills, and our "outside voice" to speak to the virtues of living here. It's a balance between fixing the City's issues and making sure others still have confidence in Edmonton.
With so much talk from public and private officials, we wanted to know what average residents thought about moving to the downtown. So we asked some.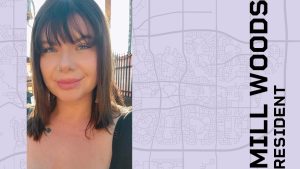 Here's what they told us: 
Jade Porter
Age: 34   Occupation: Social Worker
Current Neighbourhood: Woodcroft   Previous Neighbourhood: Oliver
Why she chose Woodcroft: "We didn't want to live in the suburbs and couldn't afford a house closer to downtown. We wanted to stay in the inner-city area and liked that Woodcroft was a smaller neighbourhood with green space close by," she said of her and her husband's decision to buy there.
Does she commute downtown: No, but her husband does three times per week.
Would she ever consider moving downtown: "I would never live downtown again. Too inconvenient with a dog — she would eat all the garbage which is a problem even in our neighbourhood, now — and just too busy and noisy."

Gwen McCormick
Age: 38   Occupation: Consultant
Current Neighbourhood: Mill Woods
Why she chose Mill Woods: "Housing prices are lower for comparable options. Homes have character. Best curry in the city. It's a safe, quiet, relaxed and calm."
Does she commute downtown: No.
Would she ever consider moving downtown: "No. It's too far, the commute is long, traffic gets jammed and there's nothing special downtown to visit. It's loud and busy and doesn't feel safe."

Camron Bute
Age: 36   Occupation: Data and AI Consultant
Current Neighbourhood: Downtown   Previous Neighbourhood: Belmont.
Why he chose Downtown: "I chose to be closer to work with the return to working in offices. I like being in walking distance to shops and bars, having people around and the river valley access is awesome."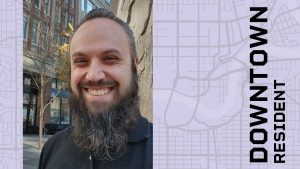 What he thinks would improve public perception: "Having more people around would help people's perception. More people would move here if grocery stores were more plentiful, as I always have to drive to get groceries when living downtown. I think better transit would help, too. It's tough to live here if you don't own a vehicle, but it clashes with the lifestyle of living downtown."
"Transit safety is also a big concern for me, and I know many people I work with won't stay late on Fridays because taking transit after around 7 p.m. is scary."
Savvy AF.  Blunt AF.  Edmonton AF.