Glenora residents could invoke a century-old caveat to shoot down a six-storey apartment proposal in their neighbourhood.
The City of Edmonton is reviewing an application to tear down two homes in the historic neighbourhood and rezone the space from single detached residential to medium-rise apartment, making way for an apartment with storefronts.
"If it were approved, I would very much expect we would see that (legally) challenged by residents in the neighbourhood," says Councillor Andrew Knack, whose Nakota Isga ward includes Glenora.
Knack says he's read all the feedback from residents on the city website, most of it opposing the project at 102nd Avenue and 138th Street. A final tally by the City showed 10 in support of the project and 59 against. Many comments invoke the Carruthers Caveat, a document drawn up by developer James Carruthers in 1911 to enforce minimum house prices and other restrictions, ensuring Glenora remained a community for the wealthy.
Edmonton's population has since grown from 25,000 to 1.1 million, but the caveat is still binding and has been held up in court: In 2014, residents forced a couple to back down from plans to build a secondary suite in their home.
Roberto Noce, a lawyer and former city councillor with expertise in real estate law, says the caveat will always come into play with any new developments in the area, and the onus is on the developer to establish compliance with the rules.
"The caveat is a binding document on the land," he says. Neither the city nor the landowner have the discretion to ignore it."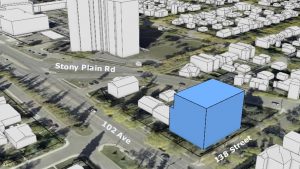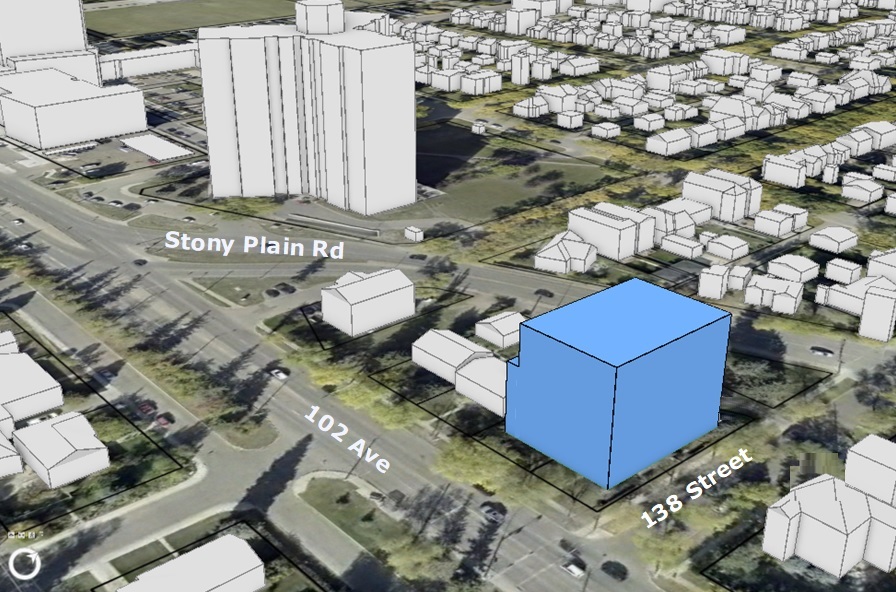 The apartment would replace two houses built in the 1950s. It would be sandwiched between single-level bungalows and across the street from a designated historic home.
City staff will evaluate the proposal based on current policies and community feedback, but will not factor the caveat into its decision. In short, even if it's approved, there could be a long fight ahead.
"When I look at the debates about this, it's always very easy to present Glenora as a bunch of entitled NIMBYists," says David Percy, a board member with the Old Glenora Conservation Association.
Some residents have complained the project would bring unwanted traffic, take up parking space and obstruct views. Percy says his concerns are not about increasing density, but about preservation of architectural heritage and the neighbourhood's "garden city" design.
The conservation association backed Knack's recent Direct Control (DC1) zoning proposal, which attempted to draw cohesive guidelines for infill development in Glenora in a way that preserved the community's aesthetic while allowing some multi-unit housing and giving more clarity on what types of buildings could be permitted.
After council shot down Knack's motion, which had been in the works for years, residents are once again left fighting what Chris Lefebvre, also a board member with the Conservation Association, says is "a bit of a hodgepodge" when it comes to new development.
"I think people feel a little abandoned by that," she says, "and maybe a little hopeless when it comes to preserving our green space and heritage homes."
Higher-density builds are making their way into Glenora as city planners and developers continue to push hard for infill as an alternative to endless urban sprawl. The 16-storey West Block building, a popular commercial space topped with million-dollar condos on the corner of 142nd Street and Stony Plain Road, was built nearby along the LRT route but falls outside of the caveat's area of jurisdiction.
For Lefebvre, trees are the biggest reason to oppose the demolition of existing homes in her neighbourhood. Having moved to Glenora nine years ago, she says she has "watched a real decline" in mature trees as new developments have moved in.
While the city boasts on its website that Edmonton has one of the largest concentrations of uninfected American elms in the world, it is removing dozens of mature elm trees to build the west portion of the Valley Line. Glenora residents protested the removal of elms in 2018.
A public hearing is expected sometime in August on the rezoning proposal, but no formal date has been set.
Lefebvre and her neighbours are ready to be in it for the long haul.
"If the city wants to roll the dice, then they can," she says.
Savvy AF.  Blunt AF.  Edmonton AF.