On July 31, a bell rang 27 times at the Harcourt House Artist Run Centre building, which had been draped in billowing black curtains. Each ring represented a life lost on the same day 35 years earlier when a tornado tore through eastern Edmonton.
Two days later, Edmund Haakonson, artist and president of the board of directors of Where Edmonton Community Artists Network (W.E.C.A.N.) Society, held a press conference to mark another dark day: the Province of Alberta will not renew the Society's Harcourt House lease past the end of November, 2022 unless W.E.C.A.N. raises enough money to purchase the building. If not, 42 Harcourt-based artists will have to find new homes in which to create and share their works. "This is do or die for Harcourt," Haakonson says bluntly. "It is not possible to emphasize enough how urgent this issue is."
The Harcourt House Artist Run Centre actually exists because of the Black Friday tornado. Days after the tragedy, Indigenous sculptor Brian Clark approached the City of Edmonton's Lorraine Noel with an idea for "Artists for Tornado Relief." About six weeks later, the Honourable Helen Hunley opened a televised, phone-in fundraiser at Edmonton Gardens (now the Expo Centre), in which over 200 Albertan artists donated their works for people to bid on. By the end, over $15,000 was raised for the Red Cross to distribute to tornado victims.
Wanting to sustain the spirit of the event, the people behind the fundraiser formed W.E.C.A.N. which, with help from the Alberta Minister of Public Works, successfully secured the Harcourt House Building and opened the Artists Run Centre on September 5, 1988. It has since helped thousands of artists — including Barbara Paterson, Robert Sinclair and Ritchie Velthuis (sculptor of the SCTV monument downtown) — learn, grow and share their Edmonton-based work with the world.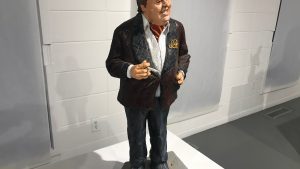 "The most important aspect of Harcourt House is the community that exists here," Haakonson said. "People who are just beginning their journey as artists are working alongside some of the most seasoned professional artists in Canada. The sharing of experience and knowledge is freely given among the many people who pass through the Harcourt House doors. It is an environment of generosity that exists because of the physical setting that is Harcourt House Artist Run Centre."
The Province of Alberta owns the building, and the Centre receives operational funding through the Alberta Foundation for the Arts, but as of the August presser, the province has not given W.E.C.A.N. a reason for its decision to end the lease, and an email to Minister of Infrastructure Nicholas Milliken has not been returned (though Haakonson added that W.E.C.A.N. has always had a good relationship with the Alberta government).
If the group can show that it's making fundraising progress by the end of November 2022, the Province will extend the lease another year to give W.E.C.A.N. time to raise the full $3.5 million (the society has right of first refusal). But the Province hasn't said what it needs to see, in terms of dollars raised or commitments made, to grant the extension.
So that's the tenuous situation, which could end up being a terrifying situation for the Centre's artists, staff and the Edmonton art scene. W.E.C.A.N. is seeking assistance from major donors and all levels of government, and has set up a GoFundMe page for people to help however they can.
But, cases of  independent artist communities struggling to stay afloat are unfortunately all too common, and there is a recent example of a beloved local institution going through a similar situation.
The CKUA Story
In 2004, radio station CKUA was in the provincially owned Alberta Block historical building on Jasper Ave. One day, Ty Lund — then-premier Ralph Klein's minister of infrastructure — sent CKUA a letter saying the government considered the entire building to be "excess inventory," and that the Province planned to put the crumbling building on the market.
"Of course, we didn't have the roughly $3 million to buy a crumbling building, but we also had no place to go, and we only had maybe about three months' notice," says Ken Regan, who was CKUA's general manager at the time (he's now its secretary). "I sent a letter back to the minister's office saying if you sell the building from under us, you're going to kill CKUA."
Three days later, Regan received a surprising and fortuitous phone call. "Klein was kind of winding down the end of his term, and he was doing online courses in communications through Athabasca University. So I come back from lunch one day, and as I'm walking off the elevator the office receptionist points at the phone and says Premier Klein is on the phone, and he wants to talk to you."
Turns out, the soon-to-retire premier had questions for Regan for a piece Klein was writing on public media. The two talked and Regan passed on a report that examined the BBC and its role as a public broadcaster. Having got what he wanted, Klein then asked how things were going at CKUA. Regan told him about the letter. Klein asked what Regan wanted. "I said, 'I want you to sell us the building for a buck.' And he's like, 'Oh, I couldn't possibly do that.' But I said the government's done it before, because I knew that they had actually done it before with some other government surplus to non-profits."
Regan then offered to put a proviso in the potential agreement saying that if CKUA sold the building for a profit within three years, it would give the profit back to the taxpayers. "That would buy us time to either renovate the building or find a new property, but at least we wouldn't be out on the street," says Regan. "[Klein] said to leave it with him and that he would talk to Ty." About four days later, Regan received a voicemail from Lund's office, "that basically said forget everything we've said up to this point." Two weeks later, the minister's office sent another letter offering CKUA the building for a buck, with the proviso included.
Regan shares the story to highlight the "political benefit" that comes from being seen as doing something positive for the community, like sharing music and art from local and un-represented artists — but that benefit only monetarily materializes if you find the right backer.
After accepting the province's one-dollar offer, CKUA went looking for the millions more needed to construct the new building. The major banks said no, and while the regional banks said they recognized the good CKUA did for the community, all they did was say it. "When it came to actually signing off on the money that we needed, they stalled," Regan says.
That's when Regan first heard the term "social risk." Basically, because CKUA was so beloved, the banks didn't want to take the reputational risk of potentially being the bad guy who someday forecloses on the building. "I said, 'So what you're telling me is that CKUA is so well-loved, and so successful in building its brand within the community, that you can't risk helping us continue doing what we do.' And they kind of looked down at their shoes and shrugged their shoulders, and that was it."
Then CKUA reached out to Dave Mowat, who at the time was the CEO at ATB. "He said, 'Tell me your vision, and tell me your story.' And I was like, 'hallelujah, because we have both,'" Regan says. A few days later, Mowat's "financial guys looked at our books," and soon set up the financing to seal the construction deal. "After moving into the new building, I saw [Mowat] at a function and I said I'm a walking billboard for ATB," Regan says, laughing.
Local artists in a provincially owned building receive word they'll soon have to leave, even though they have nowhere else to go, unless they raise millions of dollars in a short time period: The parallels between Harcourt House and CKUA's stories are plenty. But Harcourt's Haakonson doesn't expect a phone call from soon-to-retire (probably) Premier Jason Kenney on his report on modern art. He knows things in government move slowly, which "is at odds with Harcourt House's need to move very quickly. We are trying to squash what would normally be two years' worth of work into three-and-a-half months."
So they'll need major financial backers. "We're not taking anything off the table," says Haakonson. "We're talking to everybody, including CKUA, because we're not prepared to assume that we know better than anybody on this. And more often than not, I'm surprised by things that I thought were never going to go anywhere."
And while individual community member support won't be enough, Haakonson has no doubt they'll step up to help if they can. In less than two weeks, the GoFundMe campaign has already passed the halfway mark of the original goal. "Thirty-five years ago, Alberta artists stood up and helped when the people of Edmonton needed it," he says. "Today, we — the artist inheritors of that legacy — need your help."
Savvy AF.  Blunt AF.  Edmonton AF.