"All I want is a Pepsi, and she wouldn't give it to me
All I wanted was a Pepsi, just one Pepsi, and she wouldn't give it to me
Just a Pepsi!"
– Suicidal Tendencies, "Institutionalized"
If you want a Pepsi, or a locally made beverage at a City of Edmonton facility, chances are you will be out of luck.
On Monday, the Community and Public Services Committee voted to renew a sponsorship agreement between the City and Coca-Cola, but also passed a motion that all details of the deal have to be kept private.
But this secret agreement, and a similar private deal with beer giant Molson Coors, is a source of frustration for local beverage companies.
"[The City is] the only space we've approached where it's just a full-stop no, that there are no discussions to be had," said Matt Moreau, co-founder of Edmonton's Earth Water, a company that takes proceeds from bottled water sales and works with the United Nations Food Programme to provide meals for hungry kids around the world.
"We don't know anything about it (the beer deal with Molson Coors)," said Don McDonald, an Alberta Small Brewers Association board member. "We don't know how much it's for, how long it's for, or even when it could be going to tender."
Both McDonald and Moreau appeared before the committee Monday, to speak about how these multinational sponsorship deals are blocking local providers from having the chance to get their products into City facilities.
Ward Papastew Coun. Michael Janz, who has been openly critical of the Coke deal in the past, was the only committee member who voted "no" on Monday. Mayor Amarjeet Sohi and councillors Keren Tang and Jo-Anne Wright voted to approve the deal.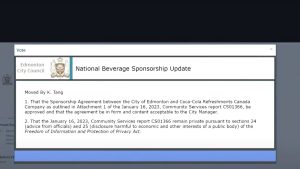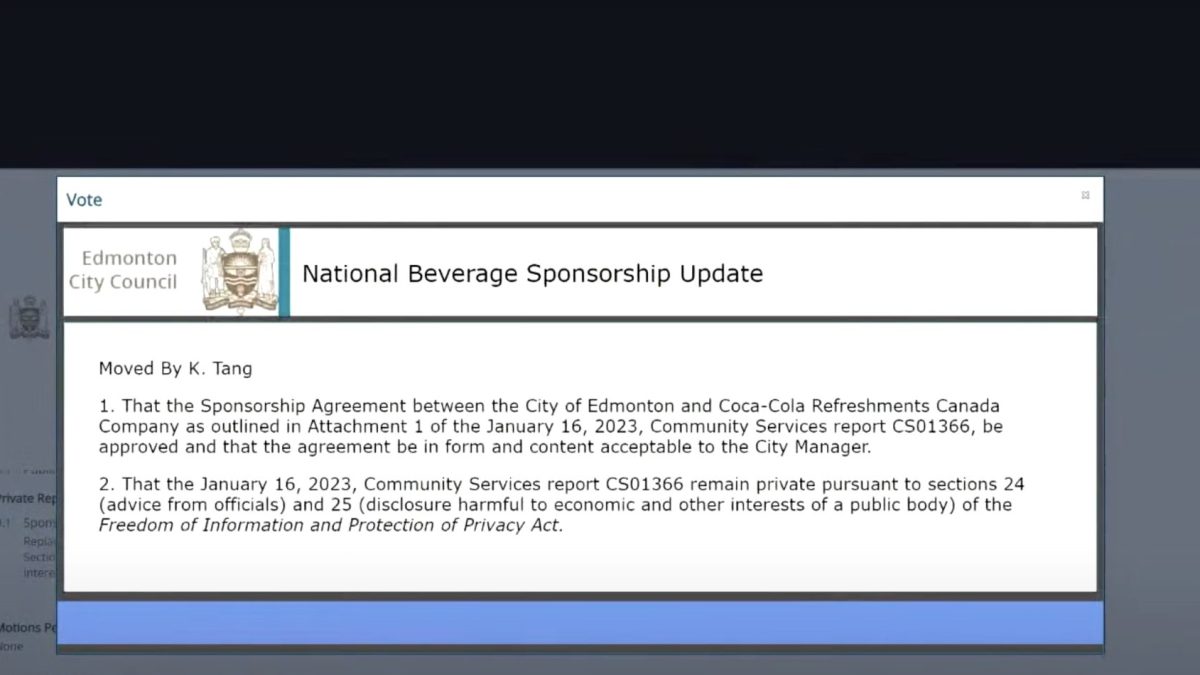 The City later made this statement about the deal: "While the details of the recent sponsorship agreement with Coca-Cola are private, we continue to explore many opportunities for local businesses to support food services at City facilities into the future."
When asked about why he voted against the deal, Janz was understandably cautious about what he could say. He said that he hoped that there would be an opportunity down the road for local beverage makers and bottlers to provide their products to city venues, even if they were in small kiosks. He encouraged Edmontonians to support local businesses, so these beverage makers could build their capacity so they could, down the road, have enough product that could serve a larger scale event.
But in September of 2022, Janz took to social media to discuss how the Coke deal impacted local beverage makers. Back then, he wrote: "I'm passionate about shopping local, living local, and using our purchasing power to build real wealth in our community. Each bill we pay and dollar we spend has an impact. Edmonton's economic recovery is an opportunity to build on our existing economic strengths and invest in our future. With the right tools and approaches, we can continue to ensure a high quality of life and low cost of living that makes Edmonton a great place to live and start or grow a business."
The message from ASBA and Moreau was simple: They understand that the city needs sponsorship dollars from these giant corporations, and they should earn the right to have the majority of the business. What they don't like is that the deal completely shuts out local suppliers and beverage makers. McDonald said Alberta brewers can't get their products into Commonwealth Stadium, the Expo Centre or the Convention Centre. They can get into the city golf courses, as the food contract is held by Robert Spencer Hospitality, which also owns The Workshop Eatery, Hayloft Steak and Fish, and Woodshed Burgers.
"They fully support Alberta," said McDonald.
McDonald said that Alberta brewers who make their products in small batches know they might not be able to serve enough product for, say, an Elks game at Commonwealth Stadium. But the chance to even set up one kiosk, where there are some local brews offered, would mimic what is happening at other stadiums across North America. Other venues are opening up small spaces to offer craft-beer selections. Sure, the majority of the taps still belong to the multinational, but there is some room to bring in the little guys.
"From what I've seen in other stadiums, sports teams are now going out of their way to support local brewers," he said.
And, he feels Edmonton is missing out on a chance to showcase some unique local products.
"The Convention Centre attracts visitors from around the world — why wouldn't you want to showcase Alberta products to them?" said McDonald.
In a letter to council from November 2022, the ASBA stated that it had sponsored K-Days in 2019, which provided for its member breweries the opportunities to pour their products at the fair. But, the organization said further attempts to get into K-Days were rebuffed as Explore Edmonton had "signed an agreement with a multi-national brand."
The big, secret deals have also impacted the tenants of City facilities.
Before FC Edmonton ceased operation, the professional soccer team was part of a national beer sponsorship deal that was signed in 2019 between the Canadian Premier League and Moosehead Breweries. The deal called for Moosehead to become the official beer of the league. Problem was, Moosehead could not be poured at Clarke Stadium, because of the existing exclusivity deal with Molson Coors.
Just as the ASBA is frustrated by the secrecy around the Molson Coors deal, Moreau feels not knowing what the Coke deal holds means Earth Water can't even get a foot in the door when it comes to City events.
Because the terms of the Coca-Cola deal is something that isn't readily available, it's impossible for Moreau to have an idea what it could offer to get its product into City facilities.
He told the committee Monday that if Earth Water could get into City venues, they'd be willing to discuss a plan where some of the proceeds from the sales would go to help the homeless in Edmonton.
Earth Water is available in IKEA stores, something that took months and months of negotiations. The company has approached many different venues, from hotels to golf courses, and there's an understanding that things don't come easy. But Moreau said the big difference is that when he's dealt with a major retail chain or a golf course, there's a willingness to at least have a discussion. When it comes to the City, there's just a hard no, and the Coke deal is the fallback position.
"It really sucked the momentum out of us," Moreau told the committee. "We can't get momentum out of our own city."
Because the Coke deal (and, likewise, the beer deal) are sponsorship agreements, they don't fall under the same open-competition rules that would govern the City if it was making the purchase of goods or services.
"Domestic and international trade agreements require the City to conduct open, competitive procurements which do not give preference to local suppliers or products," read a statement from the City. "While trade agreements apply to City procurement agreements unless an exception exists, they generally do not apply to sponsorship agreements where the City is receiving payment from another entity in exchange for sponsorship opportunities."
Savvy AF.  Blunt AF.  Edmonton AF.