Mayor Amarjeet Sohi made his case; the City of Edmonton is doing what it can to make transit safer, but, without more help from the feds and the province, it won't be enough.
As council wrapped up debate on the monthly update on transit safety, Sohi took the opportunity to send a pointed message to both the federal government and Premier Danielle Smith.
"I can comfortably say to Edmontonians that we are doing what we can," said Sohi. "We always look for more opportunities to do what we can. We can help stabilize the situation, maybe reduce disorder and crime somewhat in public places, LRT and downtown. But, as long as the underlying causes go unresolved, we would not be able to truly build a safe city for everyone. That's the challenge. We will work with anyone who wants to work with us to make life better and improve safety for all Edmontonians.
"But I do not think we should be under any illusion that what we are doing will truly make a huge difference in safety. We will do what we can. But, until those underlying root causes are tackled, we will continue to face these challenges."
He said that the City is trying to balance the needs of the public at large with the needs of vulnerable populations "who are struggling, not because of their own fault, but because of societal issues and what has been done to people over decades and, in some cases centuries, and the trauma some of those people continue to experience because of what had happened at one time to them."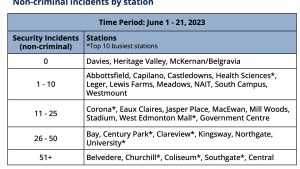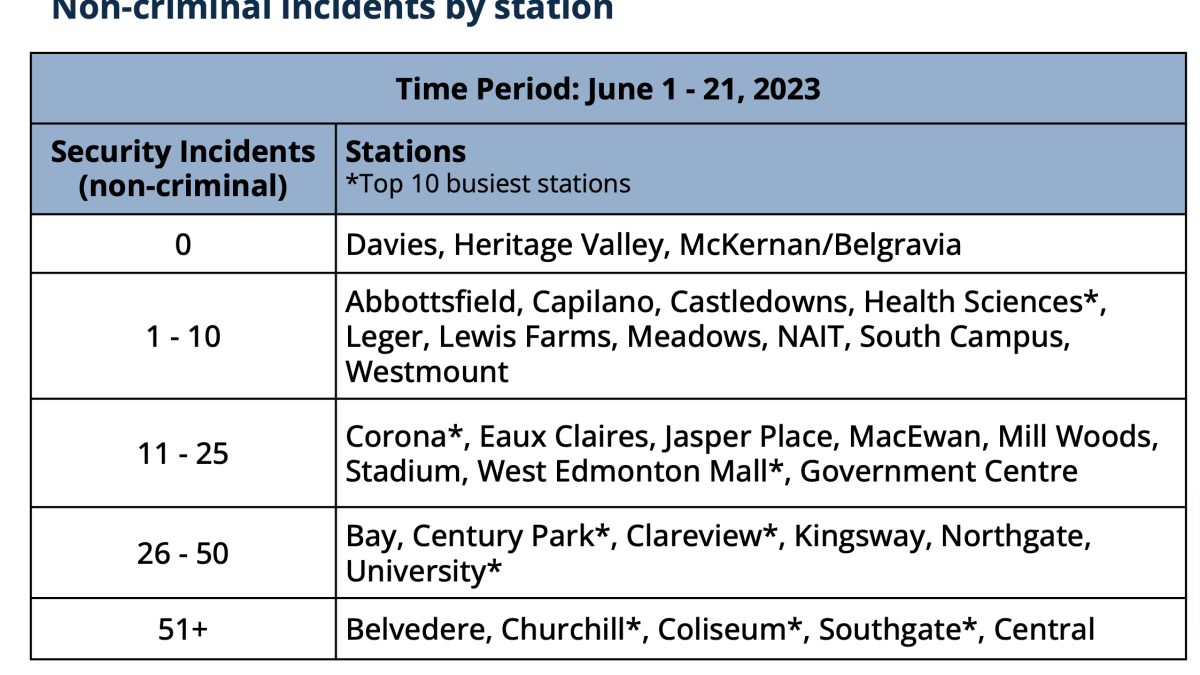 He said conversations need to happen with the federal government, to remind it of its role in aiding Indigenous people in urban centres, and how it needs to do more to provide housing and wraparound services. And, he said he is looking forward to "working with a new government at a provincial level, hoping that they will recognize that a lack of investment in those areas is actually contributing to some of the big challenges in our cities."
Council receives regular updates on the state of transit in the city. The update it heard this week included a survey of the transit system from June 1-21. It found that there were 1,244 "non criminal" incidents in the system, with a ridership of 3,048,199. Council heard that only about two per cent of the incidents that require Edmonton Transit's security corps escalate into calls that require the police.
Council was also updated on which transit stations have the most incidents, with Belvedere, Churchill, Coliseum, Southgate and Central having more than 50 calls each.
Council received 14 recommendations on how to improve safety on ETS buses and trains. Councillors voted to forward three of them so they can see the impacts they would have on the budget. As well, Councillor Erin Rutherford moved that a previously unfunded project to bring intruder technology into LRT train tunnels be discussed in future budget deliberations.
Make no mistake, council would love to look at all 14 of the recommendations, they can't do them all in one shot.
What's been given priority are plans to have more community activations in transit centres, so there is more vibrancy in them. These can range from partnering with festivals to bring performing artists into stations, and adding more art to these transit areas.
Also in the list are plans to have more staff presence at transit stations, to help passengers find their ways on the system and to make it feel more secure.
The City would also enhance cleaning measures in all transit stations.
Sohi said the monthly transit updates are important "so Edmontonians can see what we're doing, what is in our control — and also where the gaps are and how we're filling those gaps."
And, as we learned this week, the monthly transit update can also be used as a political lever.
Savvy AF.  Blunt AF.  Edmonton AF.